45 in 1 Precision Screwdriver Toolkit-JACKYLED Mini Compact Disassembly Repair Bits with Handle Tweezer Extension Bar Suction Cup for Laptop Computer Phone iPhone6s/7/7p/8/8p Electronic Products
---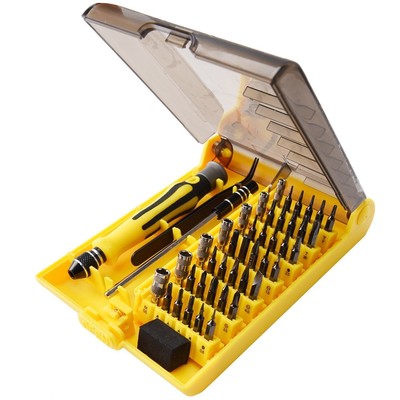 Product Details
Part Number: 43237-2
Item Weight: 5.1 ounces
Product Dimensions: 4.5 x 1.2 x 6.5 inches
Item model number: LYSB01EMLCYVU-CMPTRACCS
Size: Small
Color: Copper
Material: S2 Steel
Item Package Quantity: 1
Number Of Pieces: 45
Number of Handles: 1
Batteries Included?: No
Batteries Required?: No
Shipping Weight: 11.2 ounces
Date First Available: April 22, 2016
Make sure this fits. by entering your model number.
45-IN-1 TOOL KIT: Professional 45-in-1 multifunction interchangeable precise manual tool set, includes a tweezer, a handle, and extension bar and 42 screwdriver bits.
FEATURE: Rotatable and non-slip tough shaft ensures greater comfort and convenience. The length is 9.84inch when you put the extension bar into the handle. The end of the handle and extension bar have magnetic, effectively absorbing the screws without falling.
PRECISION ELECTRONIC INSTRUMENTATION DEDICATED: Even ultra-small 1.0 frame can be dismantled. Come with 42pcs multi size bits to fit almost phone in the market. Perfect for repairing laptops, PC, mobile devices, cameras, game machines, toys and other precision items like wristwatches and eyeglasses etc.
POCKET-SIZED CARRYING CASE: Light weight and compact design. All the kits are organized in a pocket-sized plastic carrying case, so you can take it anywhere you go. IF YOU NEED JACKYLED 38 in 1, PLEASE SEARCH: B06XKML9YN( A little different from 45 in 1).
SATISFACTION GUARANTEE: 100% Satisfaction, 60 days changing or refunding without reasons. JACKYLED Products are only sold by Jackyled Direct. If you purchase a product from another seller, please request a refund as it is a counterfeit. Jackyled Direct is the only Authorized Dealer of JACKYLED brand products.
Items Included: 1 x 4.53 inches Handle 1 x 4.13 inchesTweezer 1 x 4.64 inches Extension Bar 7 x CRV sockets: M2.5, M3.0, M3.5, M4.0,M4.5, M5.0, M5.5 35 x Screwdrivers(from the top row to the bottom row in thecase): 10 x Torx screw driver: T3, T4, T5, T6, T7, T8, T91, T10, T15,T20(Removable Mobile phones, Computers, the size of hard drives, Laptops,Shavers and other appliances) 7 x Hex screw driver: H0.9, H1.3, H1.5, H2.0,H2.5, H3.0, H4.0(Split model, Engine, Guns, Knives, Bicycles) 1 x U shapescrew driver: U2.6(for high-end patch board) 7 x Flathead screwdriver: 1.0,1.5, 2.0, 2.5, 3.0, 3.5, 4.0(for inner screws of iPhone4/4s/5, Precisionelectronic instrumentation dedicated, ultra-small 1.0 frames) 5 x Crossscrewdriver: 1.0, 1.5, 2.0, 2.5, 3.5(for iPhone and other cell phones) 1 xTriangle screw driver: 2.0 (Demolition of small household appliances) 2 x Yshape screw driver: Y2.0, Y2.5 (Demolition GB, GBA, NSDL, WII, etc.) 1 x Starscrewdriver: 0.8 (iPhone, Laptops) 1 x Circle screw driver: 1.5(for phones)