Fiskars 28 Inch Bypass Lopper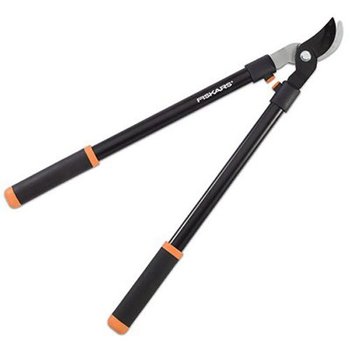 DESCRIPTION
Choose Fiskars Bypass Lopper for smooth, easy cuts on tree branches, comfortable use and lasting value. A fully hardened, precision-ground blade stays sharp, and a low-friction coating helps it resist rust while making every cut even easier. Shock-absorbing bumpers eliminate the jarring conclusion at the end of cuts, and non-slip comfort grips make our lopper easier to grip, carry and maneuver when cutting at awkward angles. In addition, durable steel handles provide lasting strength through heavy use.Amazon.comThe Fiskars bypass lopper is an ideal choice for big cutting tasks. The unit's fully-hardened stainless steel blades are designed to provide a cleaner cut for living, green growth. The blades are also replaceable, and can cut branches up to 1-1/2-inches in diameter. Additionally, the blades' non-stick coating ensures smooth and clean cuts. Durable steel handles feature soft, cushioned grips and a shock-absorbing bumper for all-day comfort.
Ideal for cutting green, living growth like tree branches
Fully hardened, precision-ground blade stays sharp through heavy use
Rust-resistant, low-friction coating helps the blade glide through wood and prevents it from gumming up with sap and debris
Length: 28 icches with a cut capacity of 1-1/2 inch thick branch
Please ensure that you checkout for your purchase immediately after agreeing to purchase the item or items. This will ensure that there are no delays in getting your order to the warehouse for fulfillment.
We allow buyers to return items within 30 days of receipt. Please ensure the item is in new condition and with all the parts that came with the item. We do reserve the right to charge up to a 20% restocking fee should the item be returned in a condition that is not sellable as new.
We ship all orders in the order that the warehouse receives them unless an expedited shipping method is purchased. Please ensure that you inspect your order once it has arrived and let us know if there are any issues.