Fiskars Brands 391381-1001 Bypass Lopper, Power Lever, 28-In.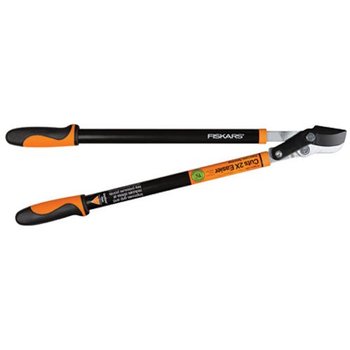 DESCRIPTION
The innovative design of our power-lever bypass lopper makes cutting living plants easier while reducing hand fatigue. It features power-lever technology that multiplies your leverage to make cutting two times easier than single-pivot loppers. A razor-sharp, precision-ground blade stays sharp, and a rust-resistant, low-friction coating makes every cut even easier. In addition, this lopper's handles are contoured to fit your hand and include gripease pads to improve grip and reduce hand fatigue. Lopper includes a 1-5/8-inch cut capacity and a lifetime warranty.
Ideal for cutting thick branches
Power-Lever technology multiplies leverage to give you up to two times more cutting power than traditional single-pivot loppers
Fully hardened, precision-ground steel blade stays sharp, even through heavy use
Maximum cutting capacity: 1-3/4 inch diameter
Length: 28 Inches
Please ensure that you checkout for your purchase immediately after agreeing to purchase the item or items. This will ensure that there are no delays in getting your order to the warehouse for fulfillment.
We allow buyers to return items within 30 days of receipt. Please ensure the item is in new condition and with all the parts that came with the item. We do reserve the right to charge up to a 20% restocking fee should the item be returned in a condition that is not sellable as new.
We ship all orders in the order that the warehouse receives them unless an expedited shipping method is purchased. Please ensure that you inspect your order once it has arrived and let us know if there are any issues.