FREE SHIPPING
Oneida Molded DIY Dust Deputy Cyclone
---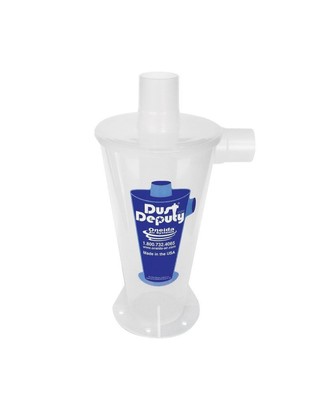 Product Details
Part Number: AXD001004
Item Weight: 1.7 pounds
Product Dimensions: 15.5 x 9.3 x 7.4 inches
Item model number: AXD001004
Size: Pack of 1
Color: Clear
Item Package Quantity: 1
Certification: (unset), certified frustration-free
Included Components: attachments
Batteries Included?: No
Batteries Required?: No
Shipping Weight: 1.7 pounds
Date First Available: July 30, 2009
INCREASED SUCTION POWER Separates 99% of material before it hits your vacuum, keeping filters cleaner for longer.
LONGER LIFESPAN With reduced dust loading onto the filter, less cleanings are required, resulting in longer life for your vacuum.
EASIER WASTE DISPOSAL Easily empty your dust and debris from the bucket without ever having to open your vacuum.
WET OR DRY This US-made, cyclonic pre-separator is made for any make, size or model wet/dry vacuum.
PATENTED DESIGN Made of anti-static resin, this cyclone separator is translucent in color and features a tapered inlet and outlet (2 inner diameters).
Tired of using your shop vacuum and getting poor results? Oneida's Dust Deputywill transform your shop vacuum and the way you work by trapping dust in abarrel and NOT in your shop vacuum. Injection molded from a translucent anti-static resin, the patented design of Oneida Air's Dust Deputy cyclone usescentrifugal force to capture and remove 99% of dust and debris from the air-stream before it reaches your vacuum's filter, eliminating clogged filters andsuction loss while extending the life of your shop vacuum! The Oneida DustDeputy DIY (Do-It-Yourself) cyclone let's you build the dust control systemthat works best for you. You supply the waste container, the hardware, thehose, etc. Then add the award-winning cyclone separator. With the DIY cycloneyou're limited only by your imagination! The Dust Deputy will save you timeand money on expensive replacement vacuum filters and dust bags, allowing youto keep working harder, longer, and safer than ever! This simple and efficientdesign can be adapted for use with any make, size, or model wet/dry vacuum andfeatures tapered 2.0″ ports for secure fittings using a variety of hose sizes.