Oneida Molded DIY Dust Deputy Cyclone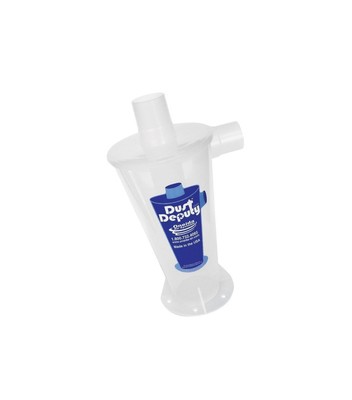 Size:Pack of 1 Tired of using your shop vacuum and getting poor results?Oneida's Dust Deputy will transform your shop vacuum and the way you work bytrapping dust in a barrel and NOT in your shop vacuum. Injection molded from atranslucent anti-static resin, the patented design of Oneida Air's Dust Deputycyclone uses centrifugal force to capture and remove 99% of dust and debrisfrom the air-stream before it reaches your vacuum's filter, eliminatingclogged filters and suction loss while extending the life of your shop vacuum!The Oneida Dust Deputy DIY (Do-It-Yourself) cyclone let's you build the dustcontrol system that works best for you. You supply the waste container, thehardware, the hose, etc. Then add the award-winning cyclone separator. Withthe DIY cyclone you're limited only by your imagination! The Dust Deputy willsave you time and money on expensive replacement vacuum filters and dust bags,allowing you to keep working harder, longer, and safer than ever! This simpleand efficient design can be adapted for use with any make, size, or modelwet/dry vacuum and features tapered 2.0″ ports for secure fittings using avariety of hose sizes.
Product Features
Make sure this fits. by entering your model number.
INCREASED SUCTION POWER Separates 99% of material before it hits your vacuum, keeping filters cleaner for longer.
LONGER LIFESPAN With reduced dust loading onto the filter, less cleanings are required, resulting in longer life for your vacuum.
EASIER WASTE DISPOSAL Easily empty your dust and debris from the bucket without ever having to open your vacuum.
WET OR DRY This US-made, cyclonic pre-separator is made for any make, size or model wet/dry vacuum.
PATENTED DESIGN Made of anti-static resin, this cyclone separator is translucent in color and features a tapered inlet and outlet (2 inner diameters).
---
Payment:
We only accept Paypal. Regarding cancellation request, we cannot guarantee that such a request will always be granted. If your state is one that we charge sales tax in, you will see the sales tax charge at time of checkout before you submit payment. We remit all collected sales tax to their respective states
Shipping:
Standard shipping is free. Handling time on our orders is normally between 1-2 business days. Your order should reach you within 3 – 5 business days. If you need to get your item faster, then we offer a faster shipping method that you will discover upon checkout for an additional price of $1.99.We do not ship to AK, HI, PO boxes, or APO addresses. We are not responsible for any incorrect or undeliverable addresses. We only ship to the confirmed Paypal address. Manufacturers update their packaging frequently and packaging images shown in our auction may vary from what you ultimately receive however you will be receiving the exact item you ordered regardless.
Contact Us:
Contact us via eBay messaging and we will respond within 1 business day. Our office hours are 8AM-4PM PST Monday-Friday. We only respond to emails sent via eBay's messaging service.
Returns / Concerns:
You may return new, unopened items within 30 days of delivery for a refund, and a restocking fee may apply. Items must be returned in the condition they arrived in. Message us for return instructions. Return shipping fees are not refundable. We reserve the right to decline any returns if the above guidelines are not followed.