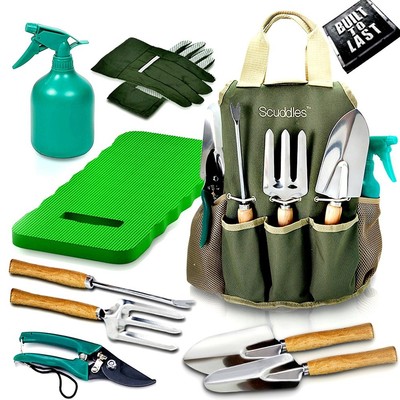 Scuddles Garden Tools Set – 8 Piece Gardening tools With Storage Organizer, E…
---
Product Overview
Scuddles brand is focused on bringing high quality unique gardening tools to the market. What makes us stand out is our commitment to the our philosophy is to bring good value to market. The idea for scuddles brand was more of a sudden inspiration than a business plan; it grew out of dedication and service goals. So emerged the Scuddles life-hood story , with critical acclaim & sincere endorsments, Scuddles Garden continues to innovate & introduce new, high-quality garden tools. We make garden tools for everyone. We make garden tools last for life! OUR MISSION: Our mission is to help you to Create a patio garden with the plants elevated for sheer perfection . Our elevated design means you can grow a lush garden without ever bending over. With deep soil depth you can grow healthy plants, herbs, & vegetables. scuddles company dovetail design makes garden look more elevated, As you Continue growing the garden of your dreams! Ultimate Gardening Tools set Scuddles Garden  Tool Set By Scuddles  is a great way to provide for your own food. However, you will find that it is very difficult to do at times if you do not have the proper Gardening tool set it will be very difficult for you to get the gardening done. We know this from experience and have to admit, we hated every minute of trying to claw through the dirt Of the Front Lawn/Backyard with our hands to get the work done.  Therefore We have come out with the perfect Solution. Scuddles Gardening Tote Will Make you enjoy Gardening once more With its Unique  5 hand tools Which Includes a 25 Oz Garden Sprayer  gloves, Transplanter, Trowel,Short Handle Shovel, Weeder,gardening gloves  And a rake all in 1. Scuddles Gardening bag are designed to fit   all the above Garden tools. This makes it easier for you to move around smiling in your garden oasis. This Garden Tote is Designed to store all of the tools in the set to make sure you do not lose any of them with special pouches/Pockets for each tool. The tools are not overly heavy, which is going to make it easier for anyone of almost any age to use the tools. So this will make a great gift for your grandmother who may like gardening. This gardening tools for arthritis is great as well or even make it easier for you to get the tool set that your grandmother would want to have if they were looking to start a garden in pots. It is important to note that the light weight does not mean the company skimped on the quality of the tools as they are still held to the same standard the rest of the Scuddles gardening tools are held to. With these tools the handles are made from the ergonomic and what I tend to view as comfortable grip handles. These handles are nice because they make it easier for anyone to use and know they will not be hurting their hands while they are working with the tools. At the same time, though, the heads of the tools that are going to be in the dirt are made from aluminum which is durable, but also resist rusting so you do not have to be concerned about your tools wearing out on you over time because of oxidation. ​ What Type Of Tools Are Included In This Kit? Scuddles gardening 9 piece garden Tools set bag includes Multiple Gardening tools .This is a great feature, but you need to realize you should know what the tools are and the use for the . Here is a quick list that will make it easier for you to see if the Scuddles 9 piece set helps you out or not. Be a true Gardener !!! Transplanting Spade – Used for transplanting your smaller plants or flowers without damaging the roots. Trowel – This is used for getting the dirt dug up and with the measurements on the trowel getting to the right depth for the plants you are working with. Rake – The rake you can use for smoothing over the soil that you have just turned up or breaking up the larger clumps of dirt that you have in your garden. Cultivator – The cultivator tool will be useful for breaking up the dirt and providing some much needed aeration to the soil in the lower levels. Weeder Tool – The weeder tool will be useful for helping you in getting the weeds root system turned up and exposed to allow the weeds to die off from the garden. Garden sprayer – Whether you need to spray a plant or water some soil we have included a unique water bottle sprayer for doing just that. The Smell of Gardening, Loving it!!! SOFT AND CUSHIONED KNEELER PAD – You can use this garden kneeler & seat as a sitting stool to do chores or flip it over to use as a kneeler to do your garden work This Garden Kneeler is very versatile heavy duty that really helps take the strain out of gardening. This product can take the pain & strain out of gardening and make the gardening an enjoyable task. This product is made up from robust steel tubing with a comfortable kneeling platform of EVA Foam.It is Easy to store and fits right into the bag once done for maximum storage and transportation usage. Gardening becomes easy with this ideal garden kneeling Pad. Scuddles kneeling Pad is constructed from soft yet durable sponge and is ideal for gardening as well as floor scrubbing, DIY and other jobs around the home. The kneeling pad features a built-in carry handle for easy carriage. Additional Features The nice feature about the Garden tool  set and that is the fact these tools are not overly large that you will not be able to work with them in a pot.   ✔ TRIM THE BRANCHES EASILY – Premium Hardened Razor Sharp Carbon Steel Blades Slice 3/4 inch Easily. Non Stick Coating & Sap Groove to Resist Sticky Sap & Ensure Smoothest Clean Cuts Scuddles  has come out with a great tool set here. The Smooth handles make it quite a bit easier for you to grip the handles of the tools, but you will like the fact the tools will not rust .
Features
HIGHEST QUALITY – These Garden Tools are made of the Highest quality solid polished Aluminum which are sharpened for small or larger gardens alike.
FEATURES – Scuddles Garden Tools Set Includes shovel, Rake, fork, weeding tool, 25 Oz Garden Sprayer To keep your plants and flowers hydrated, And Pair garden gloves that fits on medium and large hands.
SOLID GRIP – Each garden tool Offers Great support and grip for the hand therefore reducing extra pressure or fatigue.
KNEELING MAT INCLUDED – This set includes a very soft kneeling pad. That helps Avoid kneeling down directly on the ground causing your knees aches and pains as well as dirty.
MULTIPLE USES – Each garden tool Offers Great support and grip for the hand therefore reducing extra pressure or fatigue. LARGE SIZE – Scuddles This bag with tools Gives you Plenty of room to fill the Tote bag with grass seeds soil or any other additional garden supplies that are needed while Planting. This tote bag Has multiple pockets and made of solid Polyester great to hold different kinds of Garden tools to make your work easy. Machine washable
Details
Package Dimensions: 15.5 x 14.5 x 3 inches
Item Weight: 2.58 pounds
Shipping Weight: 2.58 pounds
---
Quality Products
Have peace of mind knowing that your order will arrive original factory sealed packaging. That means that you'll have the full force of the manufacturer's warranty to protect your purchase.
Fast and Free Shipping
You're already purchasing the item. Why pay additional for shipping, especially slow shipping? We get your order shipped out and delivered to your doorstep as quickly as possible.
Commitment
We are committed to making sure that you leave this transaction satisfied. That means having access to real people that get your questions and concerns answered quickly. Give us a shot and we will make sure that you will look to us again!