Smith's PP1 Pocket Pal Multifunction Sharpener, Grey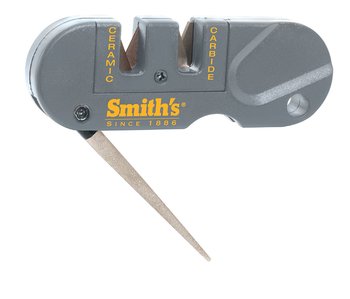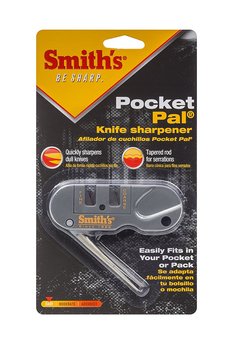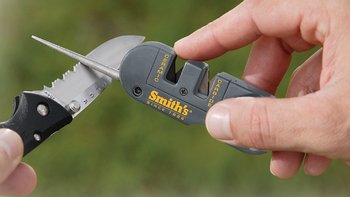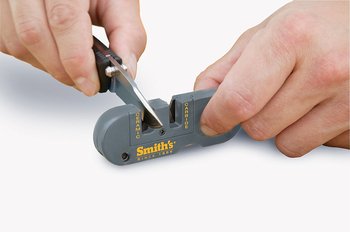 DESCRIPTION
Smith's "Pocket Pal" Multi-Functional Knife Sharpener features pre-set crossed carbides and ceramic stones, which provide the "Perfect Edge" every time. Carbides provide quick edge setting, and the specially shaped ceramic stones are designed to give you a razor sharp edge on either standard or serrated edges. A fold out, tapered round, diamond coated rod is designed for sharpening serrations and small gut hooks.  Unit is compact, lightweight, durable, and comes with a lanyard hole.Carbide Blades (COARSE) – Set the edge. The carbide blades provide quick edge setting capability for dull or damaged knives. These blades are designed for use on straight edges only, and are reversible and replaceable.Ceramic Stones (FINE) – Finish the edge. Ceramic stones provide a smooth, polished edge for already sharp knives and can be used on serrated or standard blades and are reversible and replaceable.Abrasives: Tapered Diamond Rod: MEDIUM (400 Grit) /Carbide Pull-Through slot: COARSE/ Ceramic Pull-Through slot: FINE (800 Grit)Amazon.comSleek and slim, Smith's Pocket Pal multi-functional knife sharpener is ideal for backpackers, hikers, hunters, and fishermen who want to ensure their blades have the sharpest edge wherever they roam.
Tapered Round Diamond Coated Rod for Sharpening Serrated and Standard Edges
Carbide Blades (Coarse CARBIDE Slot) Quickly Set Your Edge; Ceramic Stones (Fine CERAMIC slot) Give You a Razor Sharp Edge
Reversible and Replaceable Carbide and Ceramic Stones for Extended Sharpening
Lanyard hole for Carrying
Preset Sharpening Angles provide Guaranteed Results
Please ensure that you checkout for your purchase immediately after agreeing to purchase the item or items. This will ensure that there are no delays in getting your order to the warehouse for fulfillment.
We allow buyers to return items within 30 days of receipt. Please ensure the item is in new condition and with all the parts that came with the item. We do reserve the right to charge up to a 20% restocking fee should the item be returned in a condition that is not sellable as new.
We ship all orders in the order that the warehouse receives them unless an expedited shipping method is purchased. Please ensure that you inspect your order once it has arrived and let us know if there are any issues.