Description
Stanley 028001L 28-Inch Structural Foam Toolbox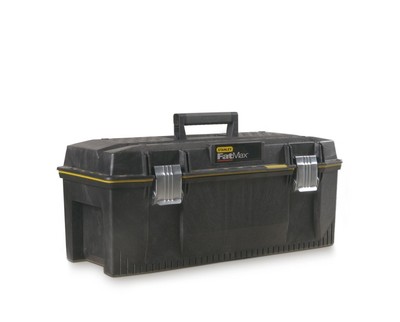 Description
2751-1070 Features: -Extra-heavy-duty, professionaltoolbox.-Patented water seal makes toolbox water resistant.-Ideal for carryingpower tools, hand tools, and medium to large items.-Structural foam consistsof thermoplastic resin and flake mica that increases structuraldurability.-Portable half tray allows room for storage of largeritems.-V-groove with ruler on top of lid holds materials such as lumber andpipes in place for cutting.-Black.-28". The Stanley 028001L FatMax28-Inch Structural Foam Water-Resistant Toolbox offers versatility toprofessionals who need to keep their tools organized and protected. The Stanley 028001L FatMax 28-Inch Structural Foam Water-Resistant Toolboxoffers versatility to professionals who need to keep their tools organized andprotected. Developed from sturdy and rugged structural foam, this FatMaxtoolbox is a heavy-duty water-resistant unit ideal for carrying power tools,hand tools, and extra-large items. It features an all-around water seal foroptimum protection of stored equipment.FatMax 28-InchStructural FoamWater-Resistant ToolboxAt a Glance:All-around water seal for optimum protection ofstored equipmentExtra-large unit is designed for maximum volume utility–nearly 32 liters Cleverly designed tote tray holds tools and small parts andenables large tool storage inside the box Constructed with structural foam forruggedness and durability Large metal rust-proof latches provide lockingoptions The toolbox has a water-tight seal, which makes it ideal for powertools. View larger.You'll have plenty of options for storing your tools andgear. View larger.Stores and Organizes Tools and HardwareThe FatMax 28-InchToolbox gives you plenty of options for storing your tools and gear. Itsportable tote tray is designed to carry hand tools and small parts–andbecause it's only three quarters of the length of the tool box, the tote trayallows for large tool storage within the box itself.For additional storage,the tool box features a bottom compartment that holds large, heavy items–suchas power tools–with room to spare.Versatile, Easy-to-Carry Unit Secures YourGearThe tool box's lid top features a V-groove track that can help securelumber, pipe, and other materials for easy sawing and cutting. For furtherconvenience, the tool box is equipped with a tough soft-grip handle andergonomic hand lifting resources to allow for easy carrying of heavyloads.This box also features large metal rust-proof latches that provideconvenient locking possibilities.About StanleyProud of its reputation forexcellence, Stanley is dedicated to continually testing, designing, andimproving its products to ensure quality and maximum function. The companystrives to maintain its standing as being the world's best–exactly what youexpect from a name like Stanley.What's in the BoxStanley 028001L FatMax28-Inch Structural Foam Water-Resistant Toolbox.The soft-grip handle andergonomic design allow for easy carrying of heavy loads. See all Productdescription
Features:
Extra large capacity tool box; portable tote tray-3/4 length design to allow storage of large tools
All round water seal for ultimate protection of equipment inside
Large metal rust proof latches with padlock eye
Ergonomic hand lifting recesses incorporated in the body for carrying heavy loads
Integrated v-grooves on top lid-suitable for pipes and lumber
Product Details:
Product Dimensions: 28 x 12.6 x 11.6 inches
Shipping Weight: 10.1 pounds
Item model number: 028001L
Handling

We will ship all orders within 3 business day of payment.

Delivery

We Do Not Ship Outside of the Continental US.

Return Policy

All items qualify for returns within 30 days of receipt. Buyer is responsible for return shipping on any item that is not damaged.

Feedback

We take our reputation seriously, we buy and sell online, so we understand the value of trust. If you are unsatisfied with your order, please contact us and we will work with you to resolve it to your satisfaction.