STANLEY 94-248 65 Piece Homeowner's DIY Tool Kit
---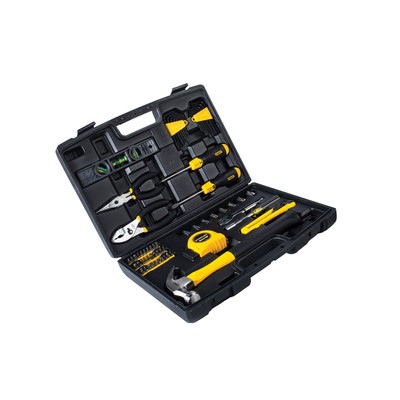 Description
The STANLEY 94-248 65 Piece Homeowner's DIY Tool Kit is amust-have tool set with everything you need to tackle a variety of tasksaround the house. Whether you're doing basic repairs, hanging pictures orcutting through boxes, this tool kit will equip you with the high-qualitySTANLEY essentials required to complete many DIY projects. This65-piece homeowner's set includes all the tools needed to complete basic DIYprojects around the home. The tools are packaged in a blow molded case foreasy tool storage and portability. All Stanley ratchets, sockets and wrenchesare manufactured globally to Stanley specifications, meeting and oftenexceeding ANSI specification. Stanley drive tools are forged from high-qualitysteel to maximize project performance. The Stanley ratchet handles areergonomically designed and have a thumb-operated reverse-switch mechanism. Inaddition, the Stanley sockets feature the Max-Drive design, providing improvedtorque and reduced fastener wear. What's In The Box The Stanley 94-24865-piece general homeowner's tool set includes one 13-ounce hammer, one16-foot tape rule, one 18mm snap-off knife, one torpedo level, one long noseand one slip joint pliers, one Phillips screwdriver, one standard tipscrewdriver, eight SAE and eight metric hex keys, one 1/4-inch round-headratchet, eight SAE 1/4-inch sockets, one 1/4-inch spinner handle, one 1/4-inchbit holder, and 30 bits. Tool Breakdown 16-Foot Tape Rule (30-495) The perfectsize for any job around the house, this 16-foot tape features the Tru-Zero endhook for accurate measurements. The 3/4-inch blade has a polymer coating tohelp withstand abrasion. The easy-to-find yellow case is made with a high-impact ABS for added durability. The tape rule also has convenient stud centermarkings at 16-inch and 19.2-inch, and a belt clip. 13-Ounce Hammer Made offiberglass, this 13-ounce hammer helps reduce vibrations, while stillproviding the "feel of wood". Easily tap in nails or remove them with thecurve claw. Exclusive rim temper reduces incidences of chipping. 18MM Snap-OffKnife (10-280) Easily cut through cardboard boxes, packages and more. Madewith stainless steel and high impact polymer components, this 6-3/4-inch knifefeatures a smooth slider mechanism that provides an audible "click" and self-locks for security. With a removable blade snapper in the cap of the knife,each of the 13 blade sections conveniently snaps off, to provide fresh, sharpcutting points for every new task you have. Torpedo Level (42-291) Whenhanging pictures on the wall, make sure they are straight with this 8-inchmagnetic level. Made of high-impact ABS plastic for durability, this levelfeatures a top-reading vial that allows visibility from the top. Each of thethree 360-degree vials is tinted for readability. Long Nose Pliers (84-101)Featuring a long nose to get into those hard-to-reach areas, these 6-inchpliers have a fixed joint design with a 1-inch jaw. The handle has acomfortable grip while using for bending, turning and cutting. Slip JointPliers (84-097) With a comfortable grip, these 6-inch pliers offer two lockingpositions with a 1/2-inch jaw for grasping and turning. Two-Piece ScrewdriverSet These two common screwdrivers will help you with a wide range of yourfastening needs. The handles are ergonomically designed with a slip-resistanttextured grip for a comfortable hold. The 4-inch bars are chrome vanadium toresist corrosion and feature a magnetic tip for a secure grip on fasteners.The set includes the 2 Phillips screwdriver (65-167) and the 1/4-inchstandard tip screwdriver (65-191). Mechanics Tools The mechanics toolsincluded are a 1/4–inch round head, full polish ratchet (85-890) and 8 SAE1/4-inch sockets, a 1/4-inch spinner handle (86-004), a 1/4-inch bit holder(86-124), and 30 specialty bits. The two hex key sets come in durable caddiesto keep keys organized, one for the 8 SAE keys and a separate one for the 8metric keys.
Features:
Make sure this fits. by entering your model number.
ERGONOMICALLY DESIGNED: Ratchet handles are ergonomically designed and have an easy-to-use, thumb-operated reverse-switch mechanism
SOCKET AND EXTENSION LOCK: Sockets and extensions remain locked onto the drive until disengaged with an easy-to-reach, low-profile quick-release button
SOCKET FEATURES: Sockets feature Max-Drive design, a unique radius corner design that provides 15% more torque than standard sockets and simplify the turning of rounded corners
ANSI SPECS: Tools meet or exceed ANSI specs
EAST TOOL STORAGE: Includes blow molded case for easy tool storage
Product Details:
Part Number: 94-248
Item Weight: 7.25 pounds
Product Dimensions: 16 x 11 x 3.2 inches
Item model number: 94-248
Color: Black
Style: Tool kit
Power Source: corded-electric
Item Package Quantity: 1
Number Of Pieces: 65
Batteries Included?: No
Batteries Required?: No
Warranty Description: Limited Lifetime Warranty
Shipping Weight: 7.25 pounds
Date First Available: December 18, 2007
Payment

PayPal is the only method of payment we accept. In regards to order cancellation requests, we will do our best to accommodate you however due to the logistics of our business model, we cannot guarantee that such a request will always be granted. In regards to sales tax, we have warehouse processing centers across the country to ensure you receive your package efficiently and as quickly as possible. As a result, we are required to charge sales tax in multiple states across the USA. If your state is one that we charge sales tax in, you will see the sales tax charge at time of checkout before you submit payment.

Delivery

We offer free standard shipping (transit time of 1-10 business days). Your order will be processed within 1-3 business days after your payment with either shipping option. Regardless of shipping date, you will receive it near the eBay estimated delivery date, almost always. We do not accept emailed requests to change shipping addresses. We do not ship to AK, HI, PO boxes, or APO addresses. We are not responsible for any incorrect or undeliverable addresses. We only ship to the confirmed Paypal address. Please note that manufactures update their packaging from time to time and that the packaging images shown in our auction may vary from what you ultimately receive however be assured you are receiving the identical contents you ordered regardless.

Return Policy

You may return new, unopened items within 30 days of delivery for a refund, and a restocking fee may apply. Items must be returned in the condition they arrived in. The box, UPC bar code, packaging, and all other accessories must be returned. Open software, music, games, movies, food items (human or pet, opened or closed), and personal hygiene products are not eligible for return. An RMA number is required for all returns. Message us for return instructions. Items returned without a RMA number will not be processed. Return shipping fees are not refundable. We reserve the right to decline any returns if the above guidelines are not followed.

Contact and Feedback

Do you have a question about an item or order? Contact us via eBay messaging and we will respond within 1 business day. Our office hours are 8AM-4PM PST Monday-Friday. We only respond to emails sent via eBay's messaging service.Invoices or special request are not guaranteed. We do not accept best offers on any items we sell. If there are any issues with your transaction please contact before leaving a neutral or negative feedback as we are certain we can produce an amicable resolution for the both of us. We would love to be given the opportunity to work with you to resolve any problem you may have.