Syntus 63 in 1 Precision Screwdriver Set with 56 Bit Magnetic Screwdriver Kit Professional Electronics Repair Tool Kit for iPhone, Tablet, Macbook, Xbox, Cellphone, PC, Game Console, Black and Blue
---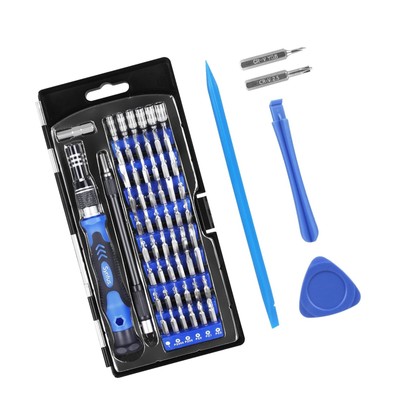 Product Details
Color: Black&Blue
Brand: Syntus
MPN: TO063

Part Number: TO063
Item Weight: 14.6 ounces
Package Dimensions: 9.1 x 4.5 x 1.3 inches
Item model number: TO063
Color: Black&Blue
Material: CR-V
Batteries Included?: No
Batteries Required?: No
Shipping Weight: 14.6 ounces
Date First Available: September 6, 2017
Make sure this fits. by entering your model number.
Carefully add 3 more openers, a triangle plectrum, an opening bar and a pastic spudger, making a great addition to your tool assortment.
56 different kind of bits made of chrome-vanadium steel, sturdy and full-featured to meet all your need, serve all popular apple series, laptops, smartphones, game consoles and other electronics.
The non-slip handle is machined from a single piece of aluminum and cover with silica gel, also with a ball bearing mounted swivel top to make the work more easily.
A flexible shaft included is perfect for electronics where the shaft is hard to get.
Multi-magnetic driver make it easy to fix bits and pull screws out; 1/4'' drill adapter allows all the bits to be used with electric screwdriver.
Color:Black&Blue; This Syntus 63 in 1 Screwdriver Set includes a variety ofbit sizes and types to help you complete a number of projects. Perfect fortechnicians and do-it-yourselfers.What's in the BoxA Triangle Plectrum -Ultra-thin pick for slicing adhesive and separating screens and cases.AnOpening Bar – Get in the tightest cracks without damaging devices.A PlasticSpudger – Anti-static tool with pointed and flat ends for safely prying cablesand sensitive electronics.Non-slip Handle – Featuring a magnetic socket,rubber grips, and a ball-bearing swivel top.Flexible Shaft – Perfect forelectronics where the shaft is hard to get.115 mm Extension Rod – Adjust theextension rod for the most suitable length.1/4" Drill Adapter – Allows allthe bits to be used with electric screwdriver.56 Bits in the FollowingSizes:Nut Driver Size: 2.5, 3.0, 3.5, 4.0, 5.5, 5.0 mmFlathead Size: 1.0,1.3,1.5, 2.0, 2.5, 3.0, 3.5, 4.0 mmPhilips Size: PH000, PH00, PH0, PH1,PH2Pozidriv Size: PZ000, PZ00, PZ0, PZ1, PZ2Square Size: SQ0, SQ1Torx Size:T3, T4, T5, T6, T7Torx Security: T8, T9, T10, T15, T20Hex Size: 0.7, 0.9, 1.0,1.3, 1.5, 2.0, 2.5, 3.0, 3.5, 4.0 mmPentalobe Size: 0.8, 1.2 (Applicable toiPhone, MacBook Air, MacBook Pro)Triangle Size: 2.0, 2.3Tri-point Size: Y2, Y3iPhone7/7 Plus Bit: Y0.6, 2.5Spanner Size: 2.6 mmSIM Eject Bit: 1 mm