img{max-width:100%}

*{margin:0;padding:0;outline:0;vertical-align:baseline;}body {font-family: sans-serif; font-size: 12px; background-color: #fff;}.pagecontainer {width: 980px !important;margin:0 auto;}.grid-container,.hd,.bd,.ft{clear:both;overflow:hidden}.hd{margin-top:15px;}.grid-1,.product,.grid-2,.grid-3,.grid-4,.grid-5,.grid-6,.grid-7,.grid-8,.grid-9,.grid-10,.grid-11,.grid-12{float:left;}.grid-1{width:8.33%;}.grid-2{width:16.66%;}.grid-3{width:24.99%;}.grid-4{width:45%;}.grid-5{width:41.65%;}.grid-6{width:49.98%;}.grid-7{width:58.31%;}.grid-8{width:54%;}.grid-9{width:74.97%;}.grid-10{width:83.30%;}.grid-11{width:91.63%;}.grid-12{width:100%;}.grid-content{padding:5px;}/*.grid-8-a{float:left;width:66.64%;}*/body a:link,body a:visited, body .g-novisited a:visited{color:#222222;}.o-logo{display:block;float:left;overflow:hidden;background:url(https://www.ussw.com/sites/all/themes/lightbox/logo.png) no-repeat 0 0 #fff; width:300px; height:54px;text-indent:-100000px;}.o-promo{display:block;float:right;overflow:hidden;text-align:right;margin-bottom:25px;}.o-promo h2{display:block;overflow:hidden;color:#222222;font-size:18px;font-weight:normal;line-height:1.2em;margin-bottom:5px;}.o-promo span{display:block;overflow:hidden;color:#999999;font-size:11px;line-height:1em;}.srchbar{background-color:#E4E1D6; padding:6px 5px 6px 0;}.secblock{width:700px; float:left;background:#E4E1D6;height:22px;}.secblock a{display:block;float:left;padding:5px 10px;font-size:12px; font-weight:bold;}.secform{overflow:hidden;width:auto;height:24px;}.hd .g-hdn_desc {color:#999999;}.bd, .ft{margin:0 auto; padding-top: 12px;}table.v4clp td ul{list-style:none;}table.v4midBox{border:none;}.os-button { font-weight: bold; font-style: normal; display: inline-block; overflow:visible; border-radius: 0; cursor:pointer; padding: 4px 6px 1px; font-size: 75%; background-color: #d32b37; border: 1px solid #870610; border-top: 2px groove #f4b3b89; /* IE 7 & IE 8 hack to create the top button highlight */ border-right: 1px solid #8706109; border-right: 1px groove #8706109; border-left: 1px solid #8706109; text-shadow: 0 -1px 0 rgba(0, 0, 0, 0.40); -webkit-box-shadow: inset 0px 1px 0px 0px #FFF; -moz-box-shadow: inset 0px 1px 0px 0px #FFF; box-shadow: inset 0px 1px 0px 0px rgba(255, 255, 255, 0.50); color: #FFF; margin-left:10px;}.os-button:hover {opacity: 0.9;filter: alpha(opacity=90);text-decoration: none;}.sfOasis{background:url() no-repeat right 0 #efefe6; width:100%;height:238px;margin-bottom:10px;}.secMedia{display:block;overflow:hidden;float:left;width:458px;}.secInfoBlocks{display:block;overflow:hidden;width:auto;min-width:200px;}.sfInfoBlock-os{border:1px solid #dddddd;margin-bottom:10px; padding: 6px}.sfleft{margin-right:10px;}.sfInfoBlock-os h2{font-size: 14px;color: #ffffff;background-color:#C7202C;padding:10px;margin:0;font-weight:bold;}.sfInfoBlock-os p{padding:10px 10px 0 10px;margin:0;}.sfInfoBlock-os p:last-child{padding-bottom:10px;}.sfInfoBlock-os ul, .sfInfoBlock-os dl{padding:10px;list-style: none;}.panel-a.tabbed { background:none repeat scroll 0 0 transparent;}.panel-a.tabbed .hd { background: none repeat scroll 0 0 transparent; padding:0; position:relative; top:1px;}.mod.tabbed .tab-nav { margin:0; padding-left: 20px;}.panel-a.tabbed .tab-nav li { padding: 0 12px; margin-right:6px;}.mod.tabbed .tab-nav li { display: inline;}.panel-a.tabbed .tab-nav .current { background-color:#FFFFFF; border-bottom-color:#FFFFFF; color:#C7202B;}.panel-a.tabbed .tab-nav li { border: 1px solid #DDDDDD; list-style: none; display: inline-block; *display: inline; *float: left;}.panel-a.tabbed .tab-nav a { text-decoration: none; cursor: default;}.mod.tabbed .tab-nav li { display: inline-block; font-weight:bold; height:2.25em; line-height:2.25em; text-decoration:none; background: none repeat scroll 0 0 #E4E1D6;}.productImg { margin: 0 10px 10px 0;}.productDesc h1 { font-size: 200%; font-weight: normal; margin-top: 0; float:none;}a.link:link, a.link:hover, a.link:visited, a.link:focus { color: #369;}.half { width: 49%; float: left; display: inline-block; min-height: 150px; padding: 0;}.half.odd { margin-right: 12px;}/* Circular Content Carousel Style */.ca-container{ position:relative; font-family: sans-serif; width:904px; height:460px; margin: 25px;}.ca-container.products { height: 195px;}.ca-container.categories { height: 145px;}.ca-container.categories .ca-nav a.ca-nav-box-prev,.ca-container.categories .ca-nav a.ca-nav-box-next { top: 30%;}.ca-wrapper{ width: 99%; height:100%; position:relative;}.ca-item { display: block; float:left; border-right: 1px solid white; width:25%; height:100%;}.ca-container.products .ca-item, .ca-container.categories .ca-item { *position:relative !important;}.ca-more{ position: absolute; bottom: 10px; right:0px; padding:4px 15px; font-weight:bold; background: #ccbda2; text-align:center; color: white; font-style:italic; text-shadow:1px 1px 1px #897c63;}.ca-close{ position:absolute; top:10px; right:10px; background:#fff url(../../../Administrator) no-repeat center center; width:27px; height:27px; text-indent:-9000px; outline:none; -moz-box-shadow:1px 1px 2px rgba(0,0,0,0.2); -webkit-box-shadow:1px 1px 2px rgba(0,0,0,0.2); box-shadow:1px 1px 2px rgba(0,0,0,0.2); opacity:0.7;}.ca-close:hover{ opacity:1.0;}.ca-item-main{ padding:20px; position:absolute; top:5px; left:5px; right:5px; bottom:5px; background:#fff; overflow:hidden; -moz-box-shadow:1px 1px 2px rgba(0,0,0,0.2); -webkit-box-shadow:1px 1px 2px rgba(0,0,0,0.2); box-shadow:1px 1px 2px rgba(0,0,0,0.2);}.ca-content-wrapper{ background:#b0ccc6; position:absolute; width:0px; /* expands to width of the wrapper minus 1 element */ height:440px; top:5px; text-align:left; z-index:10000; overflow:hidden;}.ca-content{ width:904px; overflow:hidden;}.ca-content-text{ font-size: 14px; font-style: italic; margin:10px 20px; padding:10px 20px; line-height:24px;}.ca-content-text p{ padding-bottom:5px;}.ca-content h6{ margin:25px 20px 0px 35px; font-size:32px; padding-bottom:5px; color:#000; color:#60817a; border-bottom:2px solid #99bcb4; text-shadow: 1px 1px 1px #99BCB4;}.ca-content ul{ margin:20px 35px; height:30px;}.ca-content ul li{ float:left; margin:0px 2px;}.ca-content ul li a{ color:#fff; background:#000; padding:3px 6px; font-size:14px; font-style:italic;}.ca-content ul li a:hover{ background:#fff; color:#000; text-shadow:none;}.ca-nav { display: block; width: 100%; height: 100%; position: absolute;}.ca-nav i{ background: url() no-repeat top left; position:absolute; text-indent:-9000px; opacity:0.7; cursor:pointer; z-index:100; vertical-align: top;}.ca-nav a.ca-nav-box-prev, .ca-nav a.ca-nav-box-next { position: absolute; border-style: solid; border-color: #ccc; display: block; top: 40%; background-color: #efefef; padding: 24px 12px; z-index: 4;}.ca-nav a.ca-nav-box-prev { left: -51px; *left: -91px; border-width: 1px 1px 1px 0; -moz-border-radius-topright: 2px; -moz-border-radius-bottomright: 2px; border-top-right-radius: 2px; border-bottom-right-radius: 2px;}.ca-nav a.ca-nav-box-next { left: auto; right: -51px; *right: -11px; border-width: 1px 0 1px 1px; -moz-border-radius-topleft: 2px; -moz-border-radius-bottomleft: 2px; border-top-left-radius: 2px; border-bottom-left-radius: 2px;}.ca-nav i.ca-nav-prev, .ca-nav i.ca-nav-next { top: 15px; width: 11px; height: 20px;}.ca-nav i.ca-nav-prev{ background-position: -45px 0px; left: 5px;}.ca-nav i.ca-nav-next{ background-position: -55px -1px; right: 5px; left: auto;}.ca-nav i:hover{ opacity:1.0;}.container { border: 1px solid #ccc; width: 1006px; margin: 0 auto 6px; padding: 0;}.grid-container, .container { font-size: 13px;}.container .hd { background: #E4E2D6; font-size: 16px; font-weight: bold; height: 15px; padding: 8px 12px 12px; border-bottom: 1px solid #ccc;}a.pro-thumb { text-decoration: none; display: block; padding: 0 35px;}a.pro-thumb img { clear: both; display: block; width: 120px;}a.pro-thumb span.cat-name { font-size: 12px; font-weight: bold; color: black; text-decoration: none; clear: both; display: inline-block;}i.link-arrow { display: inline-block; margin-left: 5px; width: 5px; height: 10px; background: url(); background-position: -15px 0px;}.container .hd { margin-top: 0;}.header-links-list { padding: 0; margin-top: 0; margin-bottom: 10px;}.header-link { list-style: none; display: inline; margin-right: 5px; font-weight: bold; position: relative;}.header-link a { text-decoration: none; font-size: 14px;}.hd .v4sbox { width: 140px;}.search-box { float: right; margin-top: 3px;}.search-box input { display: inline-block; margin: 0;}.header { width: 100%;}/* — Reviews CSS — */.product-reviews { padding-top: 10px; color: #333; font-size: 13px;}.product-reviews h2 { font-size: 14px;color: #ffffff;background-color:#000000;padding:10px;margin:0 0 10px 0;font-weight:bold;}.review-wrap { padding: 10px; border-bottom: 1px solid #ccc; margin-bottom: 20px;}.product-reviews span { display: inline-block;}span.review-title { font-size: 17px; font-weight: bold; display: block; margin-bottom: 4px;}span.review-rating { font-weight: bold; margin-bottom: 4px;}div.reviewer-info { color: #777; padding-bottom: 20px;}.mobile_menu{ display: none;}/************************************************************************* Responsive Section*************************************************************************/@media only screen and (max-width:1024px) { /*tablet in landscape */ .header-link a{ font-size: 12px; } .container{ width:80%; } .ca-container{ width:86%; } .ca-nav a.ca-nav-box-prev{ left:-8.2%; } .ca-nav a.ca-nav-box-next{ right:-8.2%; } .ca-item{ width:35%; } .productImg{ margin-left: 10px; } .o-logo{ margin-left: 10px; } .grid-8{ width:64%; margin-left: 15px; } .header{width:auto;}}@media only screen and (max-width:810px){ .half{ float: none; margin: 0 auto 20px; width: 81.3%; display: block; } .half.odd{ margin:0 auto 20px; }}@media only screen and (max-width:800px) { /* tablet in portrait or landscape phone */ .secblock ul{ display: none; } .grid-4{ float: none; width:100%; margin-bottom: 10px; } .grid-8{ margin-left:0; } .o-logo{ float:none; margin: 0 auto; } .grid-8{ float: none; width: 100%; } .productDesc{ margin:30px; } .o-promo{ float: none; text-align: center; } .noLeft{ float: none; width:100%; } .ca-item{ width:33%; } .productImg{ margin: 5px auto; } .mobile_menu{ display: block; height:27px; font-size: 13px; background-color: #fff; margin-left: 30px; } .search-box{ margin:0 30px 0 0; height:30px; -webkit-appearance: none; width:210px; } .v4sbox{ padding:7px; } .os-button{ padding:8px 6px 6px; -webkit-appearance: none; }}@media only screen and (max-width:770px) { .ca-container{ width:90%; } .ca-item{ width:32%; } .ca-nav a.ca-nav-box-prev{ left:-5.5%; } .ca-nav a.ca-nav-box-next{ right:-5.5%; }}@media only screen and (max-width:750px) { .ca-container{ width:90%; } .ca-item{ width:31%; } .ca-nav a.ca-nav-box-prev{ left:-5.6%; } .ca-nav a.ca-nav-box-next{ right:-5.6%; }}@media only screen and (max-width:710px){ .container{ width:95%; } .ca-container{ width:92%; } .ca-item{ width:33%; } .ca-nav a.ca-nav-box-prev{ left:-4.3%; } .ca-nav a.ca-nav-box-next{ right:-4.3%; } .half{ width:96.7%; }}@media only screen and (max-width:600px) { /* phone in portrait */ .ca-item{ width:55%; } .ca-container{ width:78%; } .ca-nav a.ca-nav-box-prev{ left:-14.1%; } .ca-nav a.ca-nav-box-next{ right:-14%; } .search-box{ margin:0 16.5px 0 0; } .mobile_menu{ margin-left: 16.5px; } .secblock{ margin-right: 0; }}@media only screen and (max-width:470px) { .ca-item{ width:100%; } .ca-container{ width:50%; } .ca-nav a.ca-nav-box-prev{ left:-49.8%; } .ca-nav a.ca-nav-box-next{ right:-49.8%; } .search-box{ float: none; margin:50px auto 0; height:38px; } .mobile_menu{ margin: 10px auto; width:220px; } .header{ width:100%; }}@media only screen and (max-width:400px) { .ca-container{ width:70%; } .ca-nav a.ca-nav-box-prev{ left:-21.3%; } .ca-nav a.ca-nav-box-next{ right:-21.3%; }}.STYLE2 { color: #6600CC; font-size: 16px;}.STYLE3 { color: #663300; font-weight: bold;}.STYLE4 {color: #663300}.STYLE6 {color: #666666}.STYLE7 {color: #660000; font-size: 16px; }.STYLE8 { font-size: 16px; font-weight: bold;}.STYLE9 {font-size: 16px; font-weight: bold; color: #666666; }
USSW Online Shopping – * Buy 5 Get 1 Free Gift * Everyday Free Shipping on Orders to Worldwide*
*USSW Free Shipping – ALL ORDER WITH A TRACKING NUMBER # .
Satisfaction Guarantee
Plus Size Sexy Leather Overbust Corset Waist Trainer Corset Body Cincher Shaper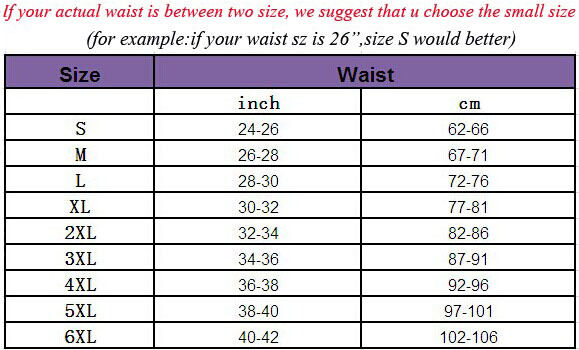 *Condition: 100% Brand New
*Material : Faux Leather
*Size:S-6XL(Waist)
*Boned:Plastic Boned
*Back:Lace up/Zipper
*Package: 1*Corset & 1*G-string

*Wash care: Hand wash cold separately, drip dry, No Iron/No Machine Washing/ No Chlorine bleaching / No Dry cleaning
*Please read my size chart carefully which may be different from your local.
*There may be slight variations in colors due to lighting effect during photo taking or bidder's monitor setting.


Love your partner, love of your life
Private listing.
Packaging: Your product will be discreetly packaged inside a jiffy style bubble envelope with no distinguishing marks or features. There is no way anyone will know what is inside without buying x-ray specs.
Do not worry anyone would know you buy it.
Disclaimer
In accordance with ebay's terms this item is sold as a theatrical prop only. The seller accepts no responsibility for any problems arising through improper use.
Lost/Delayed Items
If you are concerned about the late arrival of your item you are welcome to contact us if your product was sent using 'signed for' or 'special delivery', and we can check the tracking for your item to see if there is a problem. International shipments will automatically have the tracking number updated to your ebay purchase summary after dispatch. China Post doesn't recognise packages as being lost or delayed until 3 weeks after date of posting (4 weeks for parcels sent to Europe and 5 weeks for the rest of the world). If you still NOT GET PACKAGE OVER 40 DAYS will be required to wait until China Post confirms your item as lost before we can send a new item to you or offer a refund. For this reason we highly recommend buyers to use signed for delivery, or if the item is urgent, special 1-3 day delivery.
Any unhappy please contact me FIRST, will 10000% solve question. Negative FeedBack can't solve any.
About Us…
USSW Shopping has a simple mission:
To save people money. We serve customers world-wide by offering high-quality goods at unbeatable prices, all while maintaining a focus on superior customer service.
Need Our Help?
Our award-winning customer service agents are available 7 days a week, within 12hours reply..
Click here to contact us.
USSW Standard Free Shipping – ALL ORDER WITH A TRACKING NUMBER #
FREE Standard orders ship within 1-3 business days, depending on the time the order is received, and arrive within 10-30 business days.
Take 7-15 days to USA
Take 10-30 days to Russia, Australia,Canada,United Kingdom, France
Other country take 25-35 days.
We use all major mail carriers, including ChinaPost and DHL.

If you have any problems, please feel free to send ebay message to us,We will reply you ASAP.Give us a chance to resolve your problem without any loss to you, thanks!
USSW Returns – Seller payment return postage
Standard Return Policy within 60 Days:

Items must be returned in new or unused condition and contain all original materials included with the shipment.
Frequently Asked Questions
If you get the package, but donot like it, we accept returning to us
Wholesale accept, you can add the ones you like in your cart and place an order, levae a message to us, we will give you best price. then you pay
OEM: we are a factory mainly doing sexy lingerie, corsets, sexy dresses. if you have you own style print, please send us your picture.we can do for you.
Feedback
We value your business and would like to make your shopping experience with us better. If there is any problem after you receive the item, it would be greatly appreciated if you could please contact us before leaving a negative feedback or opening a case with eBay. We would be happy to resolve the problem to benefit both parties.
Thank you and happy shopping!.
.dc_tracker_img{display:none;}.dc_tracker_img:last-of-type{display:block;}p:empty+hr{display:none;}hr+span.ebay{display:none;}